Sterling Silver Blue Roman Glass Necklace Judaica Pomegranate Handmade Pendant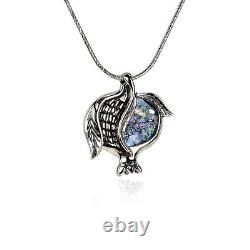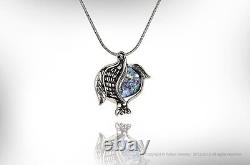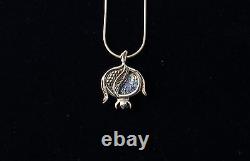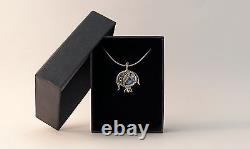 Beautiful Sterling Silver & Roman Glass Pomegranate Handmade Pendant Unique Design. These unusual sterling silver pendant combine the classic pomegranate symbol with ancient Roman glass. An authentic piece of Roman glass is set in the center of the pomegranate, surrounded by a shiny silver border. In Jewish tradition, the pomegranate is a symbol of divine grace and plenty; probably due to its inclusion in the Seven Species the Holy Land was abundantly blessed with. A unique pendant that integrates nature within jewelry design and makes a wonderful gift item that will surely be cherished for many years to come.
S pecial and unique desiagn....... B eautiful 925 Sterling silver handmade P endant....... N ot seen on every woman......... S pecial price directly from the silversmith......... Y ou can also order it in fine 9/14k gold, all you need is to contact me.....
The jewelry will be packed in a gift box, it includes a certificate of authenticity and an 18 silver chain. If necessary please specify any other length - free of charge.
Do not get it wet with water avoid contact between the Jewelry and hairspray perfume or any cream! Length: 26.00mm width: 19.00mm. And my goal is your 100% satisfaction guarantee! Please do not hesitate to contact me for any question at any time, I will get back to you within 12-24 hours.
Come visit us in the Jewish Quarter of the Old City near the Hurva Synagogue.