Sterling Uranium Glass Cameo Necklace 925 Silver Vaseline Glass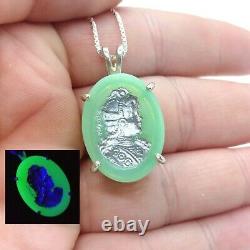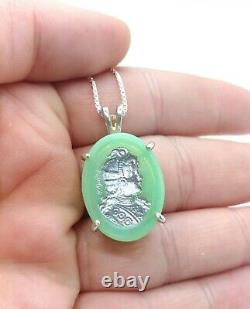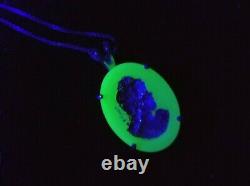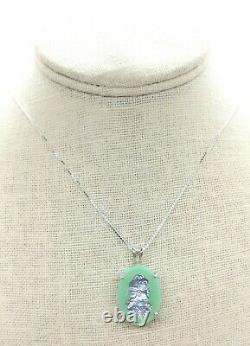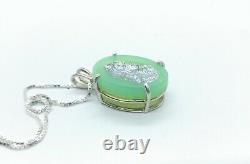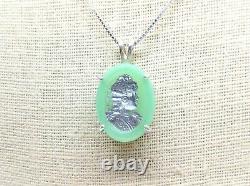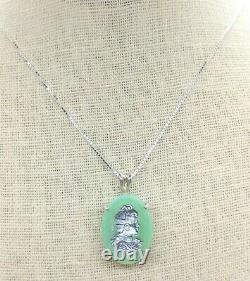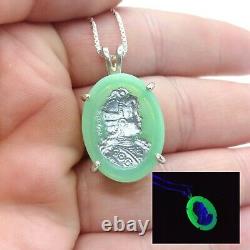 A uranium glass cameo set in 925 sterling silver. Glows bright green under a blacklight. The cameo is a good size at 25x18mm, so about an inch in length. The sterling chain is 18. I also have a uranium cameo ring for sale here. Feel free to check out my other uranium glass jewelry items for sale. I also do custom commissions with a specialty in sterling silver rings so don't hesitate to contact me if you are looking for something specific! I also specialize in vintage and antique jewelry restoration, including fitting uranium glass stones into such pieces.
If you have an old piece of jewelry you'd like restored and/or set with uranium, shoot me a message with photos. I can send you examples of my work.
Uranium glass is glass made with up to 2% uranium dioxide for color. The uranium content causes the glass to fluoresce bright green under a UV blacklight. It is very slightly radioactive and will register on a Geiger counter.
Most jewelry pieces will register just above background radiation, enough to show true uranium content yet safety for wearing. The uranium glass in jewelry is the same glass found in the depression-era glassware that is popular with collectors.
Uranium glass is identified with a UV blacklight, and it's only uranium glass if the item is truly glass, not another material, and glows the telltale bright neon green. If a piece of glass fluoresces bright green then it contains uranium. No other material or element in glass has that effect. Other jewelry materials such as resin, plasic, enamel, paint, acrylic, some gemstones, and even adhesive under a rhinestone can glow like uranium, so it is imperative for a collector of such glass in jewelry to make sure the glowing item is truly glass. Sometimes an item can glow a dull green rather than bright neon, and that is due to manganese rather than uranium.
I treasure hunt all over the world for vintage uranium glass pieces to use in jewelry, as well as new pieces from Czech Republic. I specialize in sourcing old art deco jewelry components and faceted stones. I also very much enjoy finding vintage uranium glass jewelry pieces. All of my own pieces are made with the greatest care and love and have a lifetime guarantee for repair. I test all glowing items in both my own pieces and in vintage pieces with a pin scratch test, a presidium tester, and a Geiger counter to ensure that all of my items are true uranium glass.
The item "Sterling Uranium Glass Cameo Necklace 925 Silver Vaseline Glass" is in sale since Sunday, January 24, 2021. This item is in the category "Pottery & Glass\Decorative Pottery & Glassware\Jewelry". The seller is "songbirdsweet1" and is located in Longmont, Colorado.
This item can be shipped worldwide.
Object Type: Jewelry
Type of Glass: Uranium
Color: Green