Beautiful Pendant, 925 Sterling Silver Pendant, Ancient Roman Glass Pendant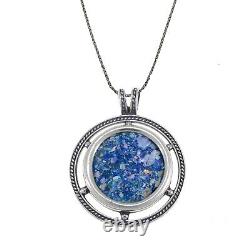 Description: Beautiful Sterling Silver Pendant set with amazing 2000 Year old Roman Glass. All hand made and no Two are exactly the same!! Comes With an elegant Certificate Of Authenticity. Life Time Guaranty For Repair and Replacement (In Special Cases).
Roman Glass is "Allergic" to water never get it wet please see our about roman glass page. Dimensions: H- 1.5" W- 1.2" 38X30mm.