Moldavite Libyan Desert Glass Sterling Silver Pendant (P118)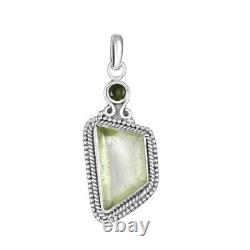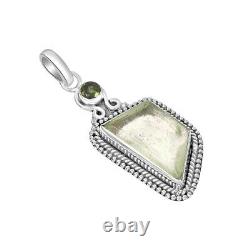 Glass Sterling Silver Pendant High Vibration. Pendant measures from bail to end 42mm x 16mm and weighs 5.59gm. Moldavite is a tektite, and a stone of intense frequency and high vibration. In ancient times it was thought to be a mystical stone that could bring good luck and fulfilment of wishes.
These natural green crystals are powerful stones for transformation, as it is thought to be the stone known as The Holy Grail Stone. It is an amazing crystal to create change in your life, and is one of the best stones to use for psychic protection, as negative entities find it difficult to connect to your aura when you are wearing it.
This crystal is found in only one area of the world, and the meaning of the name Moldavite relates to the Moldau River in Czechoslovakia. A meteorite of enormous size and incredible impact is known to have crashed in the Czechoslovakian mountain region around 15 million years ago. This event is believed to have created melted material that fell to earth and created these beautiful green crystals. Using this stone in meditation is very powerful if you are working on developing psychic abilities. One of its best assets is that it is a protective stone. Wearing this stone is an advantage when you are working with spirit, so you can be sure that what you are making contact with is of'the light'. Change and spiritual healing are the common elements that this powerful natural crystal stimulates amongst most people. This may take different forms, as this beautiful green stone can affect any or all of the chakras but it major effect is on the heart chakra which resonates the vibration of love. If you wear this crystal anywhere on your body, or hold a piece of this powerful transforming crystal in your hand during meditation, you may experience a more powerful and meaningful experience. Is also called Libyan Gold Tektite. These unusual stones embody within them the vibration of the Golden ray, a powerful spiritual energy. The metaphysical properties of these crystals are very impressive, and they are recognized as powerful manifestation tools. They are a golden yellow colour, and vibrate strongly within the solar plexus chakra, which is the seat of the will in the body.
This area works as a psychic shield, and these stones help the process by creating a strong resonance in this area. They are highly protective and are a beneficial stone to strengthen your will. They guard you against any negative psychic energy being deposited in the solar plexus or in any other area of the body. This is a helpful stone for those who feel that they do not belong on this earth, and who feel they may originate from elsewhere in the universe.
This is a time of amazing spiritual changes and extraordinary energetic activations of our light bodies. The world is going through a time of transformation, and there is a need for all of us to bring our vibrations up.
The high vibration crystal energy that these stones embody is highly effective to aid your ongoing spiritual journey. Light-workers using Libyan Desert Glass have found that these high vibration stones are a strong aid for ascension.
These highly unusual stones embody the golden light within them, which is an impressive and highly spiritual vibration, that will aid you to reconnect to ancient knowledge. Like most golden yellow stones, these stones resonate within the solar plexus chakra. They are powerful stones to aid the will-power, and they have strong energy to aid manifestation.
The vibration of these stones encourage the growth of your personal abundance and prosperity. These golden yellow crystals are strong stones to use in meditation, and will aid past life explorations. They are said to be able to enable you to make contact with beings from other dimensions, including extra terrestrial beings. These natural green crystals are powerful stones for transformation, as it is thought to be the stone known as The Holy Grail Stone. If it is for your highest good, these stones will also assist.
This item is in the category "Jewellery & Watches\Fine Jewellery\Necklaces & Pendants". The seller is "crystal-nation" and is located in this country: GB. This item can be shipped worldwide.
Brand: Moldavite
Style: Pendant
Numéro De Modèle: 417769
Modèle: 417769
Country of Origin: Unknown
Theme: Pagan
Herstellernummer: 417769
Base Metal: Sterling Silver
Type: Pendant
Numero Modello: 417769
Manufacture: Moldavite
Number of Gemstones: 1
Marque: Moldavite
Motorcycle Brand: Moldavite
Material: Crystal
Marca: Moldavite
Model Number: 417769
Modelo: 417769
Modell: 417769
Modello: 417769
Fabrication: Moldavite
Main Stone: Unknown
Manufacturer: Moldavite
Main Stone Shape: Brilliant Cut
Cut Grade: Excellent
Main Stone Treatment: Not Enhanced
Color: Multicoloured
Metal: Silver
Pendant/Locket Type: Charm
Herstellung: Moldavit
Setting Style: Flush
Número Modelo: 417769
Main Stone Creation: Natural
Modellnummer: 417769
Model: 417769
Secondary Stone: Unknown
Metal Purity: 900
CODE EAN: Ne s'applique pas
MPN: 417769
Fabricación: Moldavita
Produzione: Moldavite
Main Stone Colour: Multicolour
Numéro de pièce fabricant: 417769