New Roman Glass & Sterling Silver Necklace The Holy Temple Of Jerusalem Pendant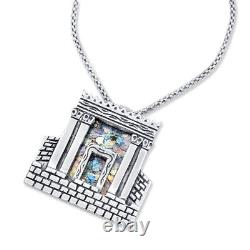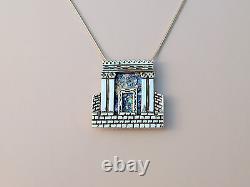 925 Sterling Silver & Roman Glass The Holy Temple Of Jerusalem Pendant Unique Design. A very special piece of jewelry, including a necklace and a silver centerpiece, set with an authentic shred of Roman glass. The centerpiece depicts the Holy. The outer border of the centerpiece is textured and oxidized to give the piece another artistic dimension. Suited for both men and woman who want to b.
S pecial and unique desiagn....... B eautiful 925 Sterling silver hand-made pendant....... N ot seen on every woman......... S pecial price directly from the silversmith.........
Y ou can also order it in fine 9/14k gold, all you need is to contact me..... The jewelry will be packed in a gift box and includes the silver chain and certificate of authenticity. Do not get it wet with water avoid contact between the Jewelry and hairspray perfume or any cream! Size: length: 27.10mm width: 27.70mm. And my goal is your 100% satisfaction guarantee!
Please do not hesitate to contact me for any question at any time. I will get back to you within 12-24 hours.