Antique Vintage Art Deco Sterling Silver Chinese Dragon Turquoise Cuff Bracelet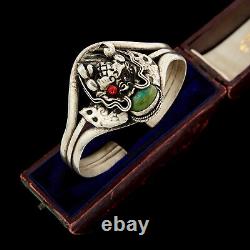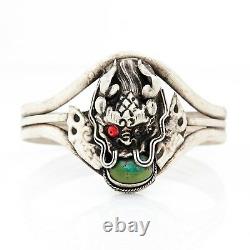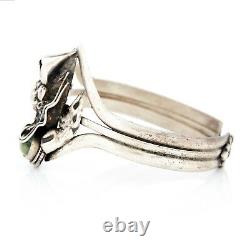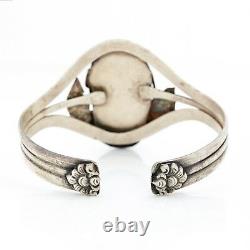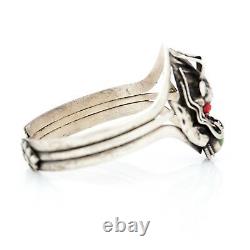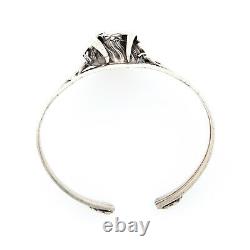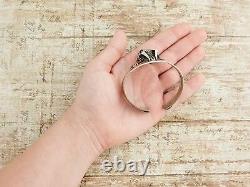 Age Circa : Art Deco C. Gram Weight : 24.4 Grams. Material : Faux Coral Glass Bead.
Main Stone Measurements/Color : 8.4 mm in length by 12.3 mm in length, Medium lime green and medium aqua green hues with a gray matrix. Stone Treatment : The stone appears to be untreated, but we are not certified gemologists and cannot be sure. Item Measurements : The bracelet has an inside circumference of 7.0" and measures 1.6" in width and tapers to 0.45. The gap measures 0.84 in width. Closure/Clasp Type : There is no clasp as this bracelet is meant to slip over the wrist at the gap.
Notable Features : This stunning sterling silver cuff bracelet was handmade in China during the Art Deco era. The bracelet features a beautiful Chinese dragon's head which was formed using the repousse method of hammering an image from the reverse side. The dragon has a faux coral glass bead eye, which has a vivid red hue.
The dragon's mouth is composed of a gorgeous turquoise cabochon, which is mounted in a bezel setting and has medium lime green and medium aqua green hues with a gray matrix throughout. The dragon is very detailed with scales on its forehead, grooved lines for its main of hair, and thin wavy whiskers moving up its head.
The ears are applied over the main, adding a three-dimensional quality to this piece. The dragon has fire coming out the sides of its mouth. The entire design is applied to a split-shank style bracelet and is finished with a finely chased lotus flower on each end of the cuff. The bracelet slips easily over the wrist at the gap and hangs elegantly on the wrist. The bracelet comes together in a truly incredible and whimsical Art Deco design and is a great example of Chinese export jewelry, which was very popular during this time. Don't miss your chance to make a statement with this gorgeous piece! The dragon is missing one faux coral glass eye, which measures 3.3 mm in diameter. This does not affect wear and the piece is still very beautiful as is. Your local jeweler can replace the eye if desired. The price has been reduced to reflect this. This listing is for the item only. The Art Deco era is famous for being the "Gatsby" or "Roaring Twenties" era. A lot of gorgeous and timeless designs in jewelry came out of this period. Jewelry from this period was most often crafted between 1920 and 1940.
Art Deco jewelry sometimes featured white gold or platinum, geometric designs, European cut diamonds, filigree, and calibre cut stones that are specifically cut to fit the design of the piece. During the Art Deco period jewelers often made jewelry upon custom order, this would often take weeks to months to completely craft by hand.
Chinese export jewelry became popular during the late Victorian period and persisted until the 1960s. During this period, Chinese craftsmen were considered by far the best in the world. The rich and wealthy would custom-order a piece through their local jeweler, who would send the design off to China to be made and sent back to Europe. This lengthy process was very expensive, making Chinese export pieces highly desirable, then and now.
Chinese stone cutters were considered some of the finest artisans in the world. They would spend years learning to hand-carve many different types of stones, and excelled in creating finely detailed pieces other artisans couldnt even hope to compare to. Their skill was so refined that they could even carve delicate stones like coral and jade. Chinese stone cutters were so talented that Victorian era European socialites would commission pieces from them, preferring the hefty price tag that came with such high quality work to the ready availability of Western stonework.
Chinese dragons appear everywhere in China in legends, festivals, astrology, art, and symbolism. Unlike the fire-breathing dragons of the west, Chinese dragons summon rain.
They have long snake-like bodies with sharp hawk-like claws and are usually very detailed in art and jewelry. They are an important part of Chinese culture and symbolize power and benevolence, as well as good luck to those worthy of it. The Chinese dragon is one of the twelve Chinese zodiac signs; which is attributed to strength, dignity, and success. Repoussé began as an ancient metalworking technique dating as far back as the 3rd century BC, involving malleable metal that was hammered onto the reverse side to create an image on the front.
Examples are found all over the world; Greece, Egypt, and even the Hopewell periods in the American southeast. Reverse side hammering was also used to add detail to the front, creating intricate patterns using grooves, indentations, and channeling. The piece was then carefully polished to create a hollow, eye-catching treasure.
Chasing is a metalworking technique that uses a nail-like tool and hammer to hand etch patterns onto a metal surface. This process creates a design that is sunk into the front of the surface using indentations, grooves, and channels. Chasing is thousands of years old and was very difficult and time-consuming technique that is still used by metalsmiths today.
Turquoise is found all over the world and has been a popular semi-precious stone used in jewelry and art for thousands of years by many different cultures; from prehistoric times to the present. Turquoise comes in many beautiful color variations; from the popular bright solid sky-blue hues to dark blue hues with dark spiderwebbing throughout, as well as aqua, teal, and many green varieties, and even some rare white with dark spiderwebbing. Please take this into consideration before. The item "Antique Vintage Art Deco Sterling Silver Chinese Dragon Turquoise Cuff Bracelet" is in sale since Sunday, June 10, 2018. This item is in the category "Jewelry & Watches\Vintage & Antique Jewelry\Fine\Art Nouveau/Art Deco 1895-1935\Bracelets".
The seller is "abeautifultimeco" and is located in Fort Collins, Colorado. This item can be shipped worldwide.
Country/Region of Manufacture: China
Style: Cuff
Material: Glass
Metal Purity: .

925

Main Stone: Turquoise
Metal: Sterling Silver