Real Moon Dust Meteorite Necklace, With a Sample from Lunar Meteorite NWA 5000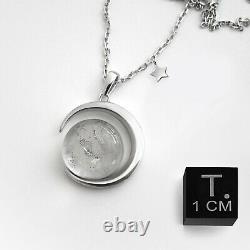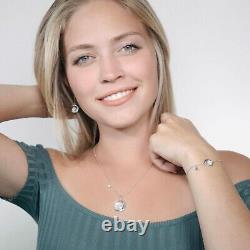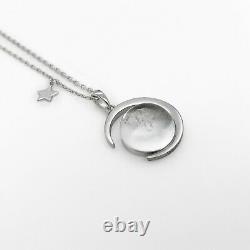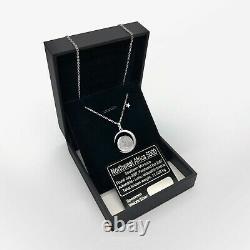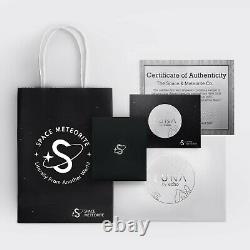 Ever promised someone the moon? Now you can fulfill that promise! This Lunar meteorite pendant is made with a sample of genuine moon meteorite dust, meaning it was once part of the surface of the Moon!
The Moon, The Light That Rules the Night, its something that everyone recognizes as so normal they barely give it a second thought yet at the same time it is something truly magical and mysterious. Real Moon dust, sounds unbelievable right? So, how did we get this moon dust you may ask? This dust came from lunar meteorite NWA 5000, which was found in July 2007 in southern Morocco. Lunar Meteorites are extremely rare as only just over 300 have ever been found--and none have been found in North America or Europe.
Unfortunately fakes are common (more on that at the bottom of the listing) so certification showing the complete chain of custody of the lunar material from the main mass holder A. Hupe listed in the official Meteoritical Bulletin to me will be provided upon request.
This necklace is handmade using sterling silver and pure crystal glass. We felt that silver best represents the silvery glow of the moon. The crystal glass is shaped to allow for some magnification for a close up view of the magically contents. Pendant dimension, 18mm by 18mm. Chain is adjustable to the following sizes.
15.5", 17.5" and 19.5. Weight of the enclosed moon dust is 10mg.
Comes presented in a lovely gift box with a gift bag, information sheet and a signed certificate of authenticity. Service to anywhere in the United States. Some countries, such as South Africa, place restrictions on private ownership of meteorites.
As far as we know, Canada, Australia and all of Europe have no such restrictions, but we recommend you double check. Black metal meteorite label plaque is for display purposes only.
REAL LUNAR METEORITES ARE VERY VERY RARE. Genuine meteorites from the Moon are exceedingly rare, millions of times rarer than diamonds.
The total official mass of all lunar meteorites combined is around 222kg or 489lbs, consisting of just over 300 meteorites while the combined weight of diamonds can be measured in tons. Unfortunately fake Lunar Meteorites are extremely common.
Membership in the IMCA requires referrals from existing members and the application must be voted on and approved by the Board of directors. Applicants are extensively questioned regarding their meteorite knowledge and experience.
Most importantly applicants must agree to abide by the IMCA's Code of Ethics. Any dishonestly or misrepresentation by members is not tolerated. Terms That should Raise Serious Concerns. Likely means it has not been studied and is a terrestrial (native earth) rock.
Such as NWA XXXX when a simple check of the Meteoritical Bulletin Database, or Google, reveals no such entry, or entry does not match description. Genuine lunar meteorites are far too important, and valuable, to bypass this process.
Means absolutely nothing without laboratory confirmation. Almost all lunar meteorites have only been found in Antarctica, Northwest Africa and the country of Omen. None have ever been found in North America, South America or Europe. While it is true about 95% of meteorites (chondrites, irons) contain high levels of metal and are attracted to magnets, lunar, martian and achondrites are not.
It should also be noted that just because a stone is attracted to magnets does not mean it is a meteorite. Some terrestrial stones that contain magnetite will respond to magnets. The item "Real Moon Dust Meteorite Necklace, With a Sample from Lunar Meteorite NWA 5000" is in sale since Tuesday, March 23, 2021. This item is in the category "Jewelry & Watches\Handcrafted, Artisan Jewelry\Necklaces & Pendants". The seller is "spaceandmeteorite" and is located in Gardendale, Alabama.
This item can be shipped to United States, all countries in Europe, China, Mexico, Japan, Brazil, Canada, Australia.
Country/Region of Manufacture: United States
Style: Pendant
Material: Crystal Glass
Gender: Female
Main Stone: Lunar Meteorite
Brand: Space & Meteorite Co
Metal: Sterling Silver