Enormous Sterling Peacock Art Capped Glass Rosary 38 1/2 Necklace 80 Grams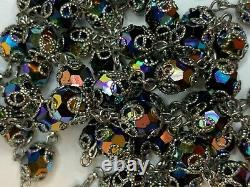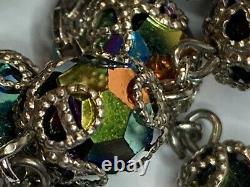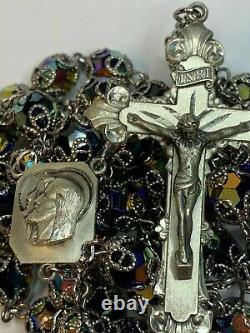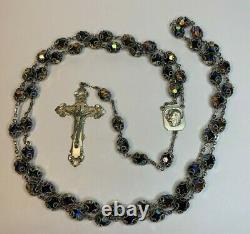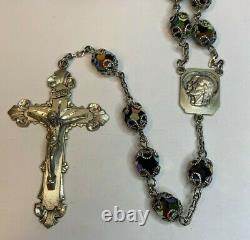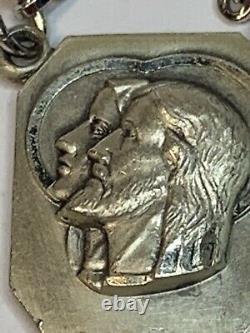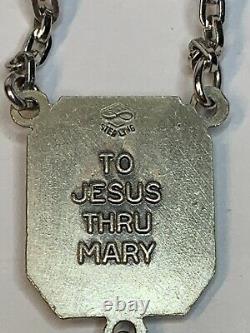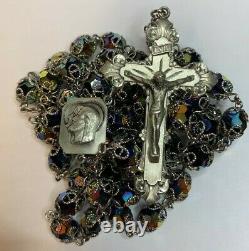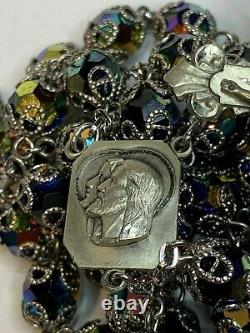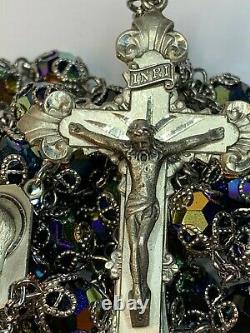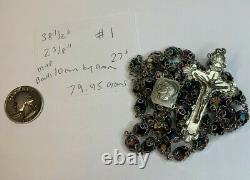 WELCOME TO "BLUEAUTUMNRAIN" OTHERWISE KNOWN AS "THE ROSARY LOFT"! PLEASE TAKE YOUR TIME TO LOOK THROUGH ALL THE ITEMS I LIST AND IF YOU HAVE ANY QUESTIONS, FEEL FREE TO CONTACT ME.
I WOULD BE HONORED TO SHARE MYSELF WITH YOU. A PORTION OF MY PROCEEDS GOES TO "THE POOR CLARES".
IF YOU WOULD LIKE TO DONATE DIRECTLY TO THEM, FEEL FREE TO CONTACT ME AND I WOULD BE GLAD TO SHARE THEIR INFORMATION WITH YOU. "LIFE IS SHORT" AND CAN AND OFTEN DOES CHANGE ON A DIME.
SO PLEASE BE GENTLE WITH YOURSELF AND WITH ALL YOU ENCOUNTER. FOR YOU NEVER KNOW HOW THAT ONE MOMENT WILL CHANGE A LIFE FOR THE BETTER! (READ BELOW ABOUT ME, "BECCA" AND ANY POLICIES I MAY HAVE FOR MY LISTINGS AND HOW I SELL). SINCERELY AND WITH GRATITUDE, BECCA.
FRESH FROM MY PERSONAL COLLECTION AND UP FOR A LIMITED TIME! VINTAGE BUT LOOKS ALMOST "LIKE NEW". MARKED STERLING SILVER & SIGNED "PEACOCK ART GLASS". FACETED COLORFUL BLACK, PURPLE, BLUE, GREEN, ORAMGE AND MORE.
DOUBLE FILIGREE CAPPED MATER & PATER BEADS BEADS. BEADED CATHOLIC ROSARY 27" (LENGTH) 38 1/2" (AROUND THE NECK AREA) WEIGHS 53.13 GRAMS #1.
AS OF NOW PEOPLE HAVE ASKED ME ABOUT "BLESSING" OR ITEMS. PRAYERS WOULD BE SAID UPON REQUEST OF PEOPLE AS WELL. I OFTEN SEND THE NUNS A LIST OF PEOPLE TO PRAY FOR. SO, LET ME KNOW IF YOU WOULD LIKE THIS DONE. THANK YOU SO MUCH FOR STOPPING BY MY AUCTIONS TODAY.
PLEASE FEEL FREE TO CONTACT ME WITH ANY QUESTIONS. I PRIDE MYSELF ON BEING AS OPEN AND HONEST WITH MY DESCRIPTIONS.
BUT I DO MY BEST TO DESCRIBE WHAT I SEE AND HAVE LEARNED ABOUT MY VAST COLLECTION OF ITEMS I PUT UP. I LOVE THIS " HEART SHAPED " SOLID STERLING SILVER VINTAGE HEIRLOOM "CREED" ROSARY BEADS! AS I KNOW IT IS HARD TO PART WITH THEM, I MUST AT THIS TIME IN MY LIFE!
THIS IS ONE OF THE MOST BEAUTIFUL TYPE ROSARIES I HAVE EVER SEEN! IT IS TIME FOR THIS TREASURE TO MAKE IT'S WAY TO A LOVING HOME!
THIS ROSARY IS PART OF AN ESTATE FIND YEARS AGO! THIS ROSARY WAS MEANT TO GIVE TO THE BRIDE ON THE DAY OF HER WEDDING TO TAKE UP TO THE ALTER WITH HER! THIS ONE OF COURSE DATES FROM 1960s. THIS CAN BE RE-ENGRAVED IF YOU WANTED OR LEFT AS IT IS.
THE ROSARY FEELS VERY PEACEFUL IN YOUR HAND! WONDERFUL FIND FOR ANYONE WHO COLLECTS ROSARIES. PERFECT FOR PRAYER OR GIFT GIVING. ALSO A BEAUTIFUL DEVOTIONAL TO HELP PREPARE FOR A DEVOTIONAL, PEACEFUL TIME. WOULD ALSO BE A WONDERFUL " SOMETHING OLD" TO GIVE THE BRIDE FOR A BRIDAL SHOWER! I HAVE COLLECTED THEM FOR MANY DECADES AND FOR MY PLACES ALL OVER THE WORLD FOR YEARS! ALL ARE UNIQUE AND SPECIAL TO ME. VINTAGE, MEANS MORE THAN 25 YEARS OLD...
ANTIQUE, MEANS MORE THAN 100 YEARS BUT ALL THE ITEMS WILL BE CONSIDERED USED THOUGH OFTEN SOME ARE NEVER USED AS ALL AND EITHER "OLD STOCK" WITH TAG STILL ON THEM OR GIFTS GIVEN SOMEONE WHO NEVER PRAYED UPON THEM. A FEW RARE OCCASIONS I WILL BE PUTTING UP MY ITEMS FROM THE 1700S IF NOT EARLIER. BUT MOST OF THOSE ITEMS I SELL FOR PURE PROFIT FOR "THE POOR CLARES" AND ARE UP ON MY SITE ON THE INTERNET CALLED "THE ROSARY LOFT".
ASK ME ABOUT IT IF YOU WOULD LIKE TO SEE THOSE ITEMS OR ITEMS I MAY NOT HAVE UP AND LISTED. LIKE I SAID I HAVE A HUGE VAST ROSARY COLLECTION WITH WELL OVER THOUSANDS OF ROSARIES. I MAY HAVE EXTRA BEADS YOU MAY WITH TO HELP COMPLETE YOUR ITEMS. ALL MY ITEMS HAVE BEEN PRAYED UPON AND HAVE WEAR FROM THE AGE AND HANDS TOUCHED UPON THEM. MY HOME IS A "SMOKE FREE" HOME, THOUGH MANY OF THESE ITEMS ARE VERY OLD AND FOUND IS DUSTY PLACES.
SO THEY MAY HOLD AN OLDER MUSKY SMELL. PLEASE ASK ABOUT ANY QUESTIONS AGAIN, BEFORE PURCHASING IF YOU HAVE ANY CONCERNS. SOME OF THE MATERIALS WILL BE STERLING SILVER "925" "SS". SOME MIGHT BE GREATER SILVER AND BE 900, 1000, 980, 950 SILVER.
SOME WILL BE MAKRED "SILVER" AND OTHERS MAY NOT BE MARKED AT ALL, BUT WHERE IT HAS BEEN TESTED, IT WILL BE IN THE DESCRIPTION. OTHER ITEMS MAY BE 18K, 14K, 10K OR EVEN 9K YELLOW OR WHITE GOLD. I WILL HAVE MANY WHICH WILL BE AN OVER LAY OR VERMIL. SOME OF THAT GOLD WILL BE 24K OR 22K OR 12K.
SOME OF MY ITMS MAY BE GOLD FILLED OVER STERLING OR BRASS. SOME WILL BE ALPACA OE 800 SILVER WHICH WAS USED AT THE TURN OF THE 20TH CENTURY. OTHER ITEMS MAYBE MADE OF PURE BRASS OR COPPER AND OTHERS MAY JUST BE PART THAT. OTHERS MAY BE MADE OF ALLOY SILVER PLATED, GUN METAL OR EVEN PLASTIC, CELLULOID BAKELITE OR DIFFERENT WOODS FROM THE TIME.
THERE WILL BE OTHER PLANT MATERIALS AND TWINE. THE BEADS AND DECORATIONS THAT ADORN MANY PIECES MAY BE PRECIOUS GEM STONES, OTHERS MAY BE MADE FROM WHAT THEY CALL "PASTE STONES".
DIAMONDS, EMERALDS, RUBIES, PEARLS ARE OFTEN USED TO DECORATE HIGHER END ITEMS. BUT OTHER MATERIALS ARE HIGHLY PRIZED FROM CERTAIN PLACES FROM ALL OVER THE WORLD. MANY ITEMS ARE MADE FROM "BONE".
THIS IS MAINLY OX OR COW BONE... BUT WOULD BE CONSIDERED "BOVINE" IN MY LISTINGS. THE COLOR CHANGES DUE TO THE OILS IN THE FINGER TIPS AND CAN BE VRY DARK BROWN OR EVEN A LIGHTER CREAM COLOR. ALSO WITH MY HERITAGE BEING IRISH AND SCOTTISH, I LOVE EVERYTHING CELTIC!
I HAVE MANY HORNED / CATTLE HORN HORNED / HOOVED ROSARIES MADE BY THE LOCAL MONKS IN THE EARLY TO MID 1900S FROM CATTLE THAT USED TO ROAM THE HILLSIDES OF THE MOUNTAINS ON IRELAND. THESE CATTLE NO LONGER EXISIT AND THEREFORE NOT MADE ANYMORE. THESE STYLE ROSARIES ARE VERY SPECIAL TO ME AND HAVE A LOVELY ENERGY ABOUT THEM. THERE ARE ROSARIES MADE FROM "JOB'S TEARS" WHICH ARE SEED PODS AND WERE BOTH FAVORED BY "MOTHER THERESA OF CALCUTTA" (SAINTED SINCE HER DEATH) AND "POPE JOHN PAUL II" ALSO SAINTED SINCE HIS DEATH.
THEY LOVED THIS STYLE ROSARY FOR THE HUMBLE NATURE WHICH THEY WERE MADE. I WILL HAVE OTHER SEAD ROSARIES FROM FROM "COCOA" (COCO SEEDS) AND "CROWN OF THORN" SEED PODS, ALSO KNOWN AS "SPINA CHRISTI".
THERE ARE MANY DIFFERENT TYPES OF GLASS TOO THAT I WILL BE POSTING. SOME ARE ROCK CRYSTAL WHERE OTHERS MAY BE MADE FROM BLOWN GLASS, ART GLASS, CARNIVAL GLASS, PEACOCK GLASS, BOHEMIAN GLASS, MILLI FLORIE AND MURANO GLASS, CONFETTI GLASS, WEDDING CAKE GLASS. SOME WILL HAVE EITHER A MIRROR COATING WHERE OTHERS HAVE AURORA BOREALIS "AB" COATING. THERE IS OLDER SLAG GLASS AND PRESSED GLASS. THERE IS MOLDED GLASS AND PASTE BEADS WHICH LOOK LIKE RHINESTONES. SO I THOUGHT I WOULD GIVE A BETTER UNDERSTANDING ABOUT MYSELF AND THE RESONS I LED ME HERE. I WAS FORTUNATE TO HAVE COME TO MEET BEAUTIFUL PEOPLE ALONG MY PATH THAT HAVE GIVEN ME THE CHANCE TO BE A "STEWARD" TO SUCH AMAZNG ITEMS. AS I HAVE GOTTEN OLDER AND REALIZED I CAN NOT TAKE THESE ITEMS WITH ME BEYOND THIS LIFETIME, I WISH TO FIND LOVING HOMES FOR THEM NOW. MOST OF THE ITEMS I HAVE COLLECTED OVER THE YEARS HAVE BEEN DONATED OR GIVEN AWAY. BUT THERE ARE MANY ITEMS LEFT I HAVE DECIDED TO SELL AT A COST OF MY CHOOSING. A PORTION OF THE PROCEEDS FROM ALL MY ITEMS GO TOWARDS EITHER CHARITY OR THE "POOR CLARE SISTERS".
IF YOU WOLD LIKE MORE INFORMATION ABOUT THEM, JUST ASK. THERE ARE SOME OF MY BUYERS WHO WISH TO DONATE TO THEM DIRECTLY, WHICH I ENCOURAGE AND LOVE.
SO PLEASE DO NOT BE AFIARD TO HAS ME ABOUT THEM. OVER THE PAST FEW YEARS I HAVE DECIDED TO SCALE BACK MY LIFE AND MY BELONGINGS. I LIVE IN A VERY SMALL TOWN, IN A TINY HOUSE AND WALK MOST EVERYWHERE I GO. SO AS YOU CAN IMAGINE I LIVE A "SIMPLY LIFE" WITH VERY FEW SIMPLE NEEDS. PEOPLE OFTEN ASK ME AS WELL, WHERE I PICKED UP ALL THESE TREASURES ALONG THE WAY. MAINLY I PICKED THEM UP THROUGH FAIMLY MEMBERS OF LOVED ONES ONCE IN THE CLERGY AND HAVE SINCE PASSED AWAY... ANTIQUE SHOPS ALL OVER THE WORLD... AND PHYSICAL ESTATE SALES AND AUCTIONS SALES. AS THEY KNOW LITTLE ABOUT THEM. SO PLEASE DO NOW BE AFRAID TO CONTACT ME FOR ANY REASON. IT'S A PASSION OF MINE AND HAS BEEN SINCE I WAS LITTLE AND CONTEMPLATING MYSELF TAKING MY OWN VOWS.... TO RESCUE THESE ABANDONED RELIGIOUS ARTIFACTS.
EACH HOLDING IT'S OWN ENERGY. THOUGH I HAVE A HISTORY GIVEN TO ME ON MANY ITEMS AND MANY YEARS OF COLLECTING HAVE GAINED A KNOWLEDGE THAT DOES GO BEYOND MOST LAY PERSONS UNDERSTANDINGS. I TOO HAVE PEOPLE WHOM ARE EXPRTS IN THE FIELDS OF RELIGIOUS ARTIFACTS AND HELP ME DATE ITEMS I MYSELF MAY NOT KNOW WELL. THERE ARE MANY PRIESTS AND NUNS WHO ALSO DONATE TO MY CAUSE AND HELP ME IDENTIFY ITEMS AND MEANINGS OF ITEMS I MAY NOT HAVE COME ACROSS AND SEEN. SO, AGAIN IF YOU HAVE ANY QUESTIONS FEEL FREE TO ASK ME BEFORE PURCHASING.
I CHANGE THINGS UP FROM TIME TO TIME IN THE METHOD IN WHICH I SELL HERE ON LINE. OFTEN TIMES I HAVE CALES GOING ON AND OFF THROUGHOUT A MONTHLY OR EVEN WEEKLY BASIC.
BUT I OFFER A "BEST OFFER" ON MOST ITEMS FOR THE TIME BEING. PLEASE NOTE WHEN I GIVE A FINAL PRICE, IT WILL BE FINAL AND PLEASE RESPECT THAT FACT. AGAIN, MY TIME IS LIMITED HERE, AS I HAVE GRANDCHILDREN, A GARDEN AND PRAYERS TO ATTEND TO. BUT I WILL GET BACK TO YOU AS SOON AS I CAN IF YOU HAVE ANY SPECIAL PRAYERS YOU SEEK OR BLESSINGS. AS I ALWAYS TRY TO FIND GOODNESS IN ALL THAT COMES IN MY PATH. I SAY, "LIFE IS SHORT AS FEATING" AND CAN AND OFTEN DOES CHANGE ON A DIME.
OWNER OF "THE ROSARY LOFT". Thoughts of Preparing yourself for Prayer..
Prayer is a very important personal Journey each year in my own personal life. It is almost like my own personal "renewal" and or " rebirth" of the imprint of my spirit. It does not mean I can swipe the slate clean and go without repentance of my own sins prior. I once thought about taking Holy Orders and is why I think I have attacked such wonderful Religious Possessions to me.
I also think there are endless definitions of even the existence of God. How we get to our own inner spirit is as diverse are there are stars in the sky. But I have been asked about how and even why pray the Rosary. As I end my ramblings now I leave you with this something that I read this once and found it very much how the path feels for me and written is words I could not find myself and so I share. After that you will find the HOW TO PRAY THE ROSARY.
As we pray and ponder the mystery of Jesus passion, death and resurrection let us ask God to create a new heart in our lives and societies, so that we may turn away from the ashes of destruction and begin to embrace more fully the new life given us by Christ. Jesus is our model because Jesus throughout manifests full, complete and active adherence to the will of him who sent him.
His passion glorifies the Father because it forcefully reveals the power of his love that saves the whole of human kind. Every journey begins with a single step. To take that step one must have the desire to make the journey.
Every journey is a voyage of discovery. Sometimes the terrain traveled is familiar, sometimes the terrain is seen for the first time; whatever the case, the Sacred journey is a journey intended to enhance our relationship with God and meet the Risen Christ in a new way. Biblically, the first person to undertake a personal journey of faith and discovery is Abraham and his wife Sarah. Now the Lord said to Abram (Abraham)'Go from your country and your kindred and your father's house to the land that I will show you. (Genesis 12:1) Two things are implied in this invitation: A journey into the unknown based on trust and faith and a personal journey of discovery of this God who offers the invitation and promise of blessing.
In spirituality the desert or wilderness is symbolic of the struggle to obey, heed, and listen to the voice of God who calls and issues the invitation. It is often tortuous, twisting, challenging involving purging, purifying, cleansing so that one's personal self can experience transformation through the process of dying to the old self and rising to new life, a life of total trust and intimacy with the One Who Calls. A we touch upon key moments in the life of Jesus' journey we will try to make applications to our own journey of faith. HOW TO PRAY THE ROSARY Prayers of the Rosary Prayer Before The Rosary Queen of the Holy Rosary, you have designed to come to Fatima and Medjugorje, to reveal to the three shepherd children and six visionaries, the treasures of grace hidden in the Rosary. Inspire my heart with a sincere love of this devotion, in order that by meditating on the Mysteries of our Redemption which are recalled in it, I may obtain peace for the world, the conversion of sinners, and the favor which I ask of you in this Rosary (Mention your request).
I ask it for the greater glory of God, for your own honor, and for the good of souls, especially for my own. The Our Father: Our Father who art in heaven, hallowed be Thy name; Thy kingdom come; Thy will be done on earth as it is in Heaven. Give us this day our daily bread; and forgive us our trespasses as we forgive those who trespass against us; and lead us not into temptation, but deliver us from evil. The Hail Mary: Hail Mary, full of grace!
The Lord is with thee; blessed are thou among women, and blessed is the fruit of thy womb, Jesus. Holy Mary, Mother of God, pray for us sinners now and at the hour of our death. Glory be to the Father: Glory be to the Father, and to the Son, and to the Holy Spirit.
As it was in the beginning, is now, and ever shall be, world without end. Prayer to Jesus Requested By Our Lady O My Jesus, forgive us our sins, save us from the fires of hell, take all souls to Heaven, and help especially those most in need of Your mercy. The Apostles' Creed: I believe in God, the Father Almighty, Creator of Heaven and earth; and in Jesus Christ His only Son, Our Lord; who was conceived by the Holy Spirit, born of the Virgin Mary, suffered under Pontius Pilate, was crucified, died and was buried.
He descended into Hell; the third day He arose again from the dead; He ascended into Heaven, and is seated at the right hand of God, the Father Almighty; from thence He shall come to judge the living and the dead. I believe in the Holy Spirit, the Holy Catholic Church, the communion of Saints, the forgiveness of sins, the resurrection of the body, and life everlasting. Holy Queen, Mother of Mercy, our life, our sweetness and our hope. To you do we cry, poor banished children of Eve. To you do we send up our sighs, mourning and weeping in this valley of tears.
Turn then, O most gracious advocate, your eyes of mercy towards us; and after this our exile, show unto us the blessed fruit of your womb, Jesus. Pray for us, O Holy Mother of God, that we may be made worthy of the promises of Christ. Rosary Novenas Religious devotion, public or private, for the duration of nine days to gain special graces, is called a Novena. Those who perform it with a lively hope of having their request granted, and with perfect faith and resignation if it be refused, may be assured that Christ will grant some grace or blessing.
This requires an understanding that in His infinite wisdom and mercy, He may refuse the particular favor which is requested. Novenas originated in imitation of the Apostles who were gathered together in prayer for nine days from the time of Our Lord's Ascension (to Heaven) until Pentecost Sunday (the descent of the Holy Spirit). This practice of saying the Rosary nine times in the form of the Rosary Novena in petition or thanksgiving, is another way of heeding Our Lady's request to Pray the Rosary. The 54 Day Novena Devotion which originated in 1884 at the Sanctuary of Our Lady of the Rosary of Pompei, consists of the daily recitation of five decades of the Rosary (one complete Mystery: Joyful, Sorrowful, or Glorious) for twenty-seven days in petition and five decades for twenty-seven additional days in thanksgiving. You will actually be making three Novenas in petition for a particular favor and three Novenas in thanksgiving for a particular favor.
1st day say the 5 Joyful Mysteries 2nd day say the 5 Luminous Mysteries 3rd day say the 5 Sorrowful Mysteries 4th day say the 5 Glorious Mysteries 5th day begin again the 5 Joyful Mysteries, etc. The Family Rosary The Family That Prays Together... The family Rosary is the Rosary recited aloud together, by as many of the family and their friends as can be present.
Any family (two or more people) may say the Family Rosary in any suitable place and at any time. A leader says aloud the first part of each prayer; a second person or group of persons answers aloud the second part of the prayer.
To begin the Family Rosary, all hold the Crucifix of their Rosary in the right hand and make the Sign of the Cross. The leader begins the Apostles' Creed and proceeds through the rest of the Rosary as shown on Page 2.
The leader announces the Mystery before each decade. Five decades (one complete Mystery: Joyful, Sorrowful, or Glorious) should be recited each day. The Five First Saturdays Mary's Great Promise at Fatima - The Five First Saturdays are intended to honor and to make reparation to the Immaculate Heart of Mary for all the blasphemes and ingratitude of men. This devotion and the wonderful promises connected with it were revealed by the Blessed Virgin at Fatima, a small village in Portugal.
Our lady appeared to three children there in 1917, and one of the little girls, Lucy, tells us that Our Lady said: I promise to help at the hour of death, with the graces needed for salvation, whoever on the First Saturday of five consecutive months shall: 1. Recite five decades of the Rosary (Joyful, Luminous, Sorrowful, or Glorious Mysteries) 3. Keep me company for fifteen minutes while meditating on the fifteen Mysteries of the Rosary, with the intention of making reparation to me.
This item is in the category "Collectibles\Religion & Spirituality\Christianity\Rosaries". The seller is "blueautumnrain" and is located in this country: US. This item can be shipped to United States, Canada, United Kingdom, China, Mexico, Germany, Japan, France, Australia, Denmark, Romania, Slovakia, Bulgaria, Czech Republic, Finland, Hungary, Latvia, Lithuania, Malta, Estonia, Greece, Portugal, Slovenia, Sweden, Korea, South, Indonesia, Taiwan, South Africa, Thailand, Belgium, Hong Kong, Ireland, Netherlands, Poland, Spain, Italy, Austria, Bahamas, Israel, New Zealand, Singapore, Switzerland, Norway, Croatia, Republic of, Malaysia, Chile, Colombia, Costa Rica, Barbados, Bermuda, Bolivia, French Guiana, Guernsey, Gibraltar, Guadeloupe, Iceland, Jersey, Cambodia, Cayman Islands, Liechtenstein, Sri Lanka, Luxembourg, Monaco, Macau, Martinique, Maldives, Nicaragua, Pakistan, Paraguay, Reunion, Uruguay, Philippines, Antigua and Barbuda, Aruba, Belize, Dominica, Grenada, Saint Kitts-Nevis, Saint Lucia, Montserrat, Turks and Caicos Islands.
Country/Region of Manufacture: United States
Material: STERLING SILVER
Main Stone: No Stone